CLIMATE CHANGE AND CORPORATIZATION OF FOOD
Abstract: Climate change together with social injustice is an important factor that impacts a large population globally. The effect is experienced both on the health and social life of an individual. Developing economies require governments to allow Foreign Direct Investment, which paves the way for Multi-National Corporations to acquire control over resources. This control of resources is acquired by promises to tackle the issues of food insecurity. Climate change has metamorphosed into a boon for MNCs in the food sector. It has altered the crop pattern and increased the dependency of farmers on genetically modified
seeds. This paper intends to establish how the concept of climate change has become a boon for MNCs in the food sector. Companies like Monsanto, DuPont, sell the idea of genetic engineering to solve the problem of food scarcity by boosting crop yields. This paper argues that increasing the amount of food through genetically modified technology does not necessarily lead to food security.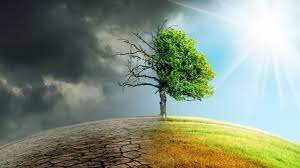 Key words:
Climate Change, Food security, Biotechnology, MNCs and Social Injustice
Introduction
Climate is a precarious decisive component for food security but with the progress of science, advanced steps have been taken to control the forces of nature. Science has generated the ability to manipulate resources and control the environment according to the needs of humanity. The only requirement is the justification of economic returns. The plausible returns allow creating man-made microclimates, strain plants, and animals together with considered necessary characteristics. Climate change variables also impact biophysical aspects like animal and plant growth, biodiversity, water cycles, and nutrient cycling. These impacts lead to indirect alteration of the financial and socio-political aspects that regulate food availability and consumption. While technological innovation is seen as a way to relieve the world of the problems of food insecurity. This paper seeks to highlight the problems associated with this argument. While the abundance of food through technological advancement has been used as a reason to allow the genetic modification of food, this paper highlights the grave concerns that corporatization of food is bringing to the world. Companies like Monsanto, DuPont, Novartis, and other chemical-cum biotechnology companies sell the idea of genetic engineering to solve the problem of food scarcity by boosting crop yields. The technologies have dubious benefits and well-documented risks. Yet these corporations further their agendas by appropriating the ideas of food insecurity. This work rejects the concept of food security as an answer to food problems of the world and argues for the concept of 'food sovereignty.
Facts designate that more recurrent and more intense weather events, going up sea levels and snowballing abnormalities in periodic precipitation patterns (together with flooding) are now leading direct bearings on food production. It is also affecting food distribution, source of revenue, human health, and infrastructure in both urban and rural areas. Food security which encompasses the aspects of food obtainability, food availability, food consumption, and food system steadfastness have serious impacts due to the change in climatic conditions. It is understood that clouts are now being experienced in the international food marketplace and remain predominant in particular rural sites wherever yields are unsuccessful and harvests are declining. Effects are felt together in urban and rural places. The source cycle happens to be interrupted, prices in markets are snowballing, assets and source of revenue prospects are exhausted, power to purchase goes down, human health is compromised, and people who are affected are not capable to deal with it. Two ways in
which crop growing is significant for food security are One the issue of food harvesting that is used by people for consumption; and importantly, makes it available as a means of support for 36 percent of the global collective labor force. In the critically severely inhabited regions of Pacific and Asia, this segment arrays as of 40 to 50 percent, and in sub-Saharan Africa, two-thirds of the operational inhabitants even now make their source of revenue from cultivation (ILO, 2007). In developing countries where people generally have low income and are highly dependent on agriculture any distress caused by climate change will have a negative impact on livelihood. The rural poor will be laid in jeopardy and their susceptibility to food insecurity will increase.
Probable Bearings of Climate Change on Food Accessibility

Food production and additional agrarian produce perhaps will rise with collective need, but then again problem is projected of major alterations in agricultural practices and cropping patterns at the local level. There has been an abundant deal of exploration on the consequences of climate change on agrarian produce, mainly cultivated crops. Approximately in total 50 percent of farm produce comes from the forest and the highland ecological units, collectively with all tree produces, even harvest grown on wide open, arable level terrain accounts for only 13 percent of yearly international harvest produce. Dryland
ecological unit accounts for about 25 percent of crop production which is both irrigated and rain-fed. The coastal ecosystem having about 12 percent of total rice production (Millennium Ecosystem Assessment, 2005).
The assessment of climate changes bearings on agrarian produce, earning based on the mode of agriculture and supply of food be required to take into account properties of the agrarian system. Importantly where climate made biochemical processes are taking place there is a need to understand to what degree, the availability of food will be impacted. A comprehensive understanding of the data of food insecurity further than the critical stage discloses that hunger is at surplus 17.2 percent or 1.3 billion people at moderate suffer from food insecurity. These 1.3 billion people fall into the category, who did not receive or could obtain the required nutritious food which could be considered sufficient. A further element of risk factors like poor health and malnourishment also increased.
Probable Bearings of Climate Change on Food Consumption
Insecurity in food consumption is by and large connected with undernourishment, as people are not able to fulfill their daily requirement of food consumption. The reason for incapacity to nourish oneself can be on the obtainability or insufficiency of food. The decline in nutritional value due to climate change leads to an adverse effect on people's ability to perform daily basis task at their optimal efficiency. Change in climate also affects the life cycle of pest in turn set off a new variety of disease and pest. These new perils add to the challenge of already existing food security further becoming hazardous to both plants and human health. Flood-prone zones face increasing manifestations of water-borne diseases. The new pest or vector originates which is climatic receptive. Initially, the new change in the cycle is out of the grasp of humans. By the time the adaptive nature of pests and diseases is understood, its impact is already severe on the crops. The crop loses its nutritional value and has a direct effect on human health after consumption of food. Any detrition on human health increases the burden on caregivers within the household, usually, it's women in developing countries who have to face this extra burden. Due to climate change Malaria is one disease in particular that is expected to alter its dissemination.
BY:
Mohammad Mohnish
Research Scholar, MMIJ Academy of International Studies
Jamia Millia Islamia, New Dellhi, India
Email: mohnish.raul@gmail.com