DETERMINING WATER QUALITY INDEX USING THE PHYSICO-CHEMICAL ATTRIBUTES FOR GROUNDWATER AND SPRING IN VICINITY OF KAWASING RESERVE FOREST, ASSAM, NORTH-EAST INDIA
Abstract:
The current study attempts to assess the physical and chemical attributes and water quality index (WQI) of spring and groundwater in vicinity of Kawasing Reserve forest (KRF) in Kamrup district of Assam, to understand its suitability for various uses including drinking purpose. The detailed investigation was carried out in two types of water sources (spring and ground water in form of well). The water samples were collected along a distance gradient from the mid-range of the forest patch to find out the influence of forest on water characteristics. It is argued that natural spring water (SWS) could be the key basis of drinking water for populations around the forest vicinity. It was observed that the SWS possessed pH, dissolved oxygen and total alkalinity beyond the permissible limits of Indian standards/ICMR standards and other parameters showed values well within the prescribed limit of standard. On other hand, the ground water system (GWS) possessed dissolved oxygen, total hardness and magnesium (Mg2+) beyond permissible limit and rest parameters were within the prescribed limit of standards. The findings reveal that the quality of SWS was better than that of GWS. The WQI indicates that spring water system falls under the "excellent" category (WQI: 25.06+6.03) while ground water system denotes "poor" category (154.98+19.03). Moreover, SWS and GWS found 100 percent and 22.5 percent suitable for human consumption. The increase in WQI value with increase in distance suggesting a negative correlation in terms of water quality or water quality degrades with increase in distance from the mid-range of KRF. The outcome of present study may be a guiding bacon to the inhabitants in vicinity of KRF with respect to water resource utilization. Systematic and sustainable water quality management approaches especially for GWS, to be adopted for clean water in surroundings of Kawasing Reserve forest.
Key words:
Ecosystem Services; Physico-Chemical; Sustainable; Water Quality Index
Introduction
The term "water quality" literally denotes the physical, chemical, and biological characteristics of water for its suitability for a particular use (Pike et al., 2010). Various anthropogenic activities are responsible for change in the physical, chemical and biological structure of the water, leading to deteriorated water resource. The major factors causing alteration of water quality includes change in vegetation cover, construction of various conveniences on the rivers, use of fertilizers and pesticide in agricultural fields, which directly affect the micro climate of the water making the water quality unhealthy for aquatic life as well as human uses. Forests have a multidirectional interaction with the freshwater systems, and are responsible for regulating the quality of water in various ways- through soil stability and sediment load, fishing and hatching activities, presence of various tree species and its impact on acidification of water, management of downstream water logging and salinity; influencing the availability of water for irrigation systems and many more (Dudley and Stolton, 2003). Groundwater systems (GWSs) are the water bodies that rely on groundwater to maintain their health and vigour. The GWSs are considered vital features in the site that necessitate access to ground water to preserve its current composition, structure and function (Eamus, 2009). Like other systems, GWS also provides ecosystem services which are valuable at various levels. Provisioning services like drinking water, water for industrial use, irrigation etc. are among the tangible goods while regulating services such as water retention and drainage, surface water supply, water purifying and filtering effect of soil and water supporting services as function of biogeochemical cycles and cultural services such as aesthetical and ethical values of GWS are among the intangible goods essential for sustenance of a healthy environment (Tuinstra and Wensem, 2014). Springs are water resources formed in any sort of rock when excavations on hills and valley bottoms intersect a flowing body of ground water at or below the water table, below which the sub-surface layer is saturated ( www.usgs.gov). Springs are the main source of water for the people in many parts of the country and worldwide (Taloor and Singh, 2020; Amen, 2019, Barakat et al., 2018; Mofor et al., 2017; Sammoudi et al., 2019; Ganiyu et al., 2017).
The people depend on springs as a source of potable water and other domestic and agricultural purposes and mostly used without any pre-treatment. Springs are therefore considered inexpensive and best-quality source of water (Ameen, 2019). The optimum accessibility and good quality of water in several regions of the world are under serious threat due to unsustainable use of groundwater, contamination of surface water and the impact of climate change (IPCC, 2007; Ameen, 2019). This study emphasis the assessment of ground (well) and spring water quality for human consumption, based on physical and chemical parameters and water quality index (WQI) enumeration of these water samples. The WQI is an important model to detect the status of water quality and has been functional for both ground and surface water system throughout the world since the last few decades (Ramakrishnaiah et al., 2009; Kawo and Karuppannan, 2018; Samantray et al., 2009; Bora and Goswami, 2017; Shah and Joshi, 2017; Singh and Kamal, 2014; Seth et al., 2016; Dash et al., 2015; Bhutiani et al., 2014; Krishnan et al., 2016; Kaviarasan et al., 2016; Vishnu Radhan et al., 2015; Yadav et al., 2015). The WQI model enables to convert a complex set of water quality data into simple information, making it easy to understand the status water source (Balan et al., 2012). WQI provides state of water with a single value utilizing multi parameters of water quality (Abbasi, 2002). Since the inhabitants in vicinity of Kawasing forest primarily depends on wells (GWS) and spring (SWS) water, the study aimed to qualify the water from both the sources. The objective of this research is also to find the effect of the presence of forest stand on water quality of the study area.
Study Area
This study is conducted in vicinity of the Kawasing Reserve forest in Kamrup district of Assam (Fig. 1). The temperature ranges between 10°C and 34°C and relative humidity accounts for 67- 90 percent with annual precipitation of 120 cm to 230 cm. The forested catchment is characterized by hilly terrain with natural forest cover and steep slope down the hill connecting the even land. The even land could be categorised as agricultural lands, water bodies, human habitations and several stream networks connecting the perennial springs flowing down the forest. The reserve forest falls under older alluvium hydrogeological formation (CGWB-Kamrup, 2013). Older alluvium has a suitable prospect for shallow tube wells, deep tube well up to 100 m depth and dug wells feasible at foot hills.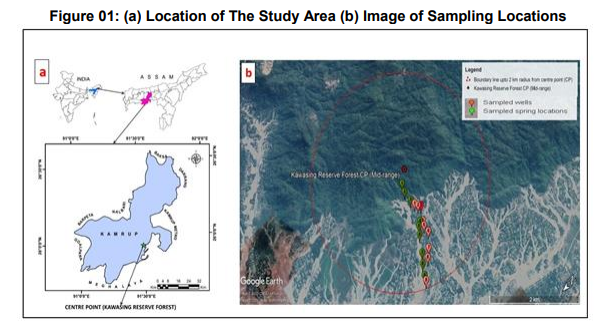 Sampling Technique and Analysis
Within the study area, the water systems of two types were selected on the basis of distance gradient from the forest. First category included artificial hand-dug wells and the second category natural spring flowing down the hill slope through the KFR. Both the categories of water bodies are largely used for drinking purpose. Water samples were collected at different locations along a distance gradient up to a distance of 2 km away from the mid-range of the forest patch. GPS points were collected using handheld GPS device (Garmin) at different locations along a flowing natural spring and also at various wells set within human habitation areas along a distance gradient from the forest stand to study the physico-chemical properties of water and to enumerate the WQI of the two different categories of water sources of the study area. A total of 9 wells and 9 springs from different locations within were surveyed and collected the samples. The wells were kutcha (entirely hand-dug) or concrete ring- walled. A few wells were later seen unused due to structural instability. The water samples from selected sites were collected and analysed for various physical and chemical properties like, temperature, pH, electrical conductivity, total dissolved solids, total hardness, chloride, total alkalinity, Calcium (Ca2+) and Magnesium (Mg2+). The standard methods for the examination of water and wastewater as prescribed by APHA (2005) was followed for examination of water quality attributes. Temperature was measured using thermometer and expressed as degree centigrade (°C). Electrode method was used to determine the pH of water. The conductivity meter of the SWAK was used for the analysis of electrical conductivity (EC) of water and the results were expressed as micro Siemens. Total dissolved solids (TDS) was estimated with the meter inbuilt in the SWAK, and the results expressed in ppm (parts per million) or mgL-1 . The water analysis kit was used to measure the dissolved oxygen content and values were expressed in mgL-1 Total hardness was estimated using EDTA titration method, and values were expressed in mgL-1 . Mohr's Argentometric method was used to determine chloride content in water, and values were expressed in mgL-1 . The Ca2+ and Mg2+ were analysed using titrimetric method, and values were expressed in mgL-1 . 
BY:
Sangeeta Deka, 1 Lal Bihari Singha2 and Om Prakash Tripathi3 1Department of Forestry, North Eastern Regional Institute of Science and Technology (Deemed to be University) Nirjuli, Arunachal Pradesh, India 2Department of Life Sciences (Botany), Manipur University, Canchipur, Imphal, India 3Dept. of Environmental Sciences, Mizoram University, Tanhril, Aizawl, Mizoram, India Corresponding author Email: deka_sangeeta@yahoo.co.in